« October 2003 | Main | January 2004 »
November 25, 2003
Must. Remain. Calm(er).
It's a good thing that I love Jillay. I have literally lost count of the number of times that I have restarted this project. First, there was the "freakishly large head" problem -- which actually turned out to be an "incorrectly knit cap" problem. I ripped it out, and tried again.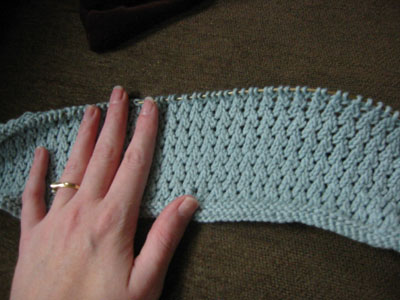 And again.
And... well, you get the idea. Finally, I begged Alison for help at Knitsmiths on Sunday. Let me tell you, Alison is a problem solver -- tell her about a problem, even in the vaguest terms, and she's on it. I left my knitting pride at the door (since it hadn't gotten me very far on fixing this damn cap), and let Alison perch over my shoulder and watch every stitch I made. After a few minutes, she exclaimed "That's it! You're doing your yarn-overs wrong!" Turns out it's front to back, not back to front. I ripped out my work for the last time and started again, taking care to yarn-over correctly.
See the difference?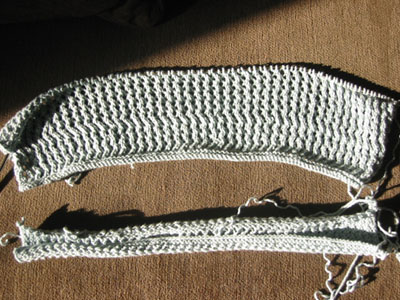 Danke, Alison!
Posted by shannon at 10:23 AM | Comments (2) | For related posts: Miscellaneous Small Projects
Success!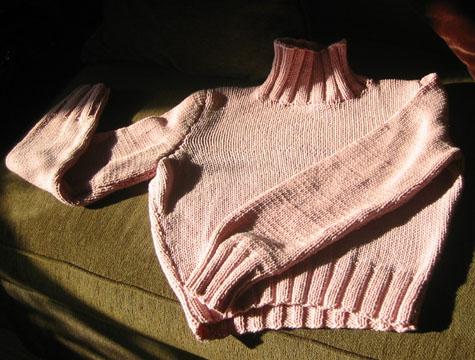 Yippee, Cherry Mango is finally done!
The only little thing that is sort of bothering me is that I made it a little shorter (like, a centimeter!) than the pattern indicated because my mom is really short-waisted. Only problem is that the pattern is for a cropped look. Woops.
With a little luck, my mother's as short as I remember her. If not, Alison will have to teach me how to cut the ribbing so I can add some more on!
Posted by shannon at 9:56 AM | Comments (2) | For related posts: Cherry Mango, For Mom
November 20, 2003
At Last, Some Progress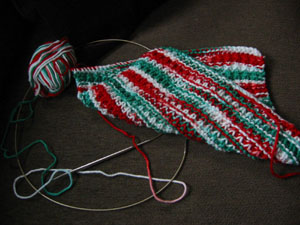 I've been struggling with a few projects and generally not feeling terribly productive on the Holiday Gift-Along, so I decided that a quick project was in order.
Last Christmas, my grandmother sent my mother some money and told her that she should buy me something I would really like. My mother, knowing me well, took me and the money to a yarn store and let me go a little nuts. Part of my haul was six balls of Lion Brand Sugar and Cream in Christmas colors (you can see it toward the top of this photo). It was a few days after Christmas, so I got a great deal.
So far, I'm using it to make Christmas dishcloths for people to whom I'd like to give small gifts. (The dishcloth in the picture is for the elderly woman who rents me my parking space.) I'll make a few more than I need to keep as "reserve gifts" that inevitably crop up. I might also make a baby hat or two, but we'll see. It sure is nice to finish something!
Posted by shannon at 8:20 AM | For related posts: Miscellaneous Small Projects
November 18, 2003
...And All to Goodwill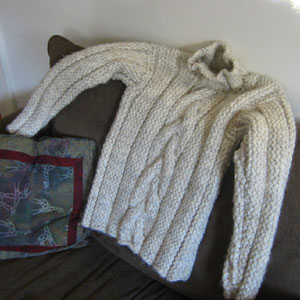 I've moved a lot, and one of the very few things that I like about doing it is the opportunities it presents for change. New habits, which I find next to impossible to begin under normal circumstances, are practically effortless in a new home and a new town.
One of the things that I've been trying to do since we moved into this apartment is get rid of stuff. While I still can't seem to throw papers away ('They might be important!'), I'm making progress on most other fronts -- particularly clothing. So as the weather cooled down and my teeny-tiny closet started getting full with heavier clothes I started pulling things out that I just don't wear in preparation for a trip to our local Goodwill.
I came across my first-ever sweater. You might remember this as the twisted-stitches sweater, or the slightly-too-small sweater. In any case, I know I'll never wear it. I'm allergic to wool, and it's just small enough that I can' t wear a turtleneck under it. As it is I'd end up clawing at my skin if I tried to brave it.
I felt a bit sentimental as I debated whether or not to keep it. Sure, it was a bit of a failure... but it was my first sweater! In the end, it was its warmth that swayed me toward giving it away. The sweater really is very, very warm and Boston winters really are very, very cold. I tossed it on the "donate" pile -- if I won't wear it, hopefully a smaller, less allergic person will.
Posted by shannon at 7:56 AM | Comments (1) | For related posts: Cream Cabled Sweater
November 16, 2003
Hail to the Redskins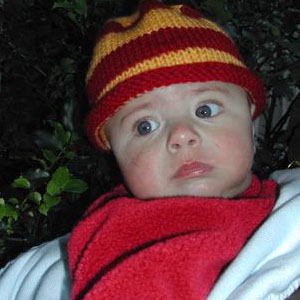 Long-time readers of La Gringa Tejedora may remember that I made Jason's brother-in-law a Redskins hat last Christmas. When I learned that his wife (Jason's sister) was preggers, I made a baby hat to match even though Henry was seven months from his arrival. In the frenzy of other things I've made him since then, I had almost forgotten about this little cap until Jason's mom sent us this picture!
Hopefully, it's not the hat that's making him look so distressed!
Posted by shannon at 12:16 PM | Comments (2) | For related posts: Baby Hats
November 13, 2003
Companion Cap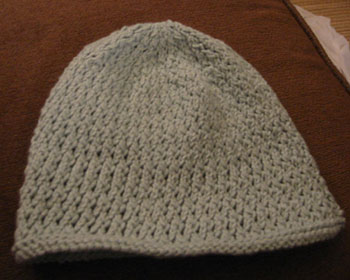 I had a bunch of Rowan Calmer left over after I had Jillay's ear warmer, and I was trying to decide what to do with it. I remembered that Alison had made a chemo cap out of a Calmer pattern, so I asked her to loan it to me. She did, and I made good progress on the cap before leaving to go on my trip. I figured that she could wear the hat alone, or with the ear-warmer when it gets cold.
As is typical for me, I ran into a problem. For some reason, I kept losing stitches every few rows -- I think it had to do with me losing track of whether or not I was supposed to yarn-over at the end or beginning of the row. Anyway, I was down four stitches by the time I got to the decreases and when I finished and sewed it up it was too small for me. Of course, this was the night before I was supposed to give it to Jillay
Let me clarify. I have a freakishly large head, so I asked my mom to try it as well. Too big for her, too. I started ripping.
I made some progress over the next 12 hours, but couldn't get it all done. Grudgingly, I brought it back to Massachusetts to finish, and promised that I would give it to her when I saw her over Thanksgiving. It's all done now, and you can still see that it looks small on my freakishly large head.
I hate being late for birthdays. Harrumph.
Posted by shannon at 10:20 PM | Comments (1) | For related posts: Miscellaneous Small Projects
Back on Track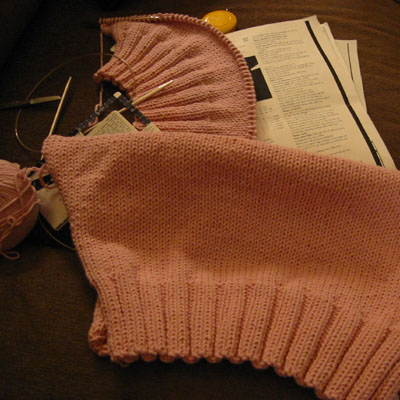 After frogging Cherry Mango, and then totally reworking my plans for this sweater, I'm making progress again. I had a long trip (for work and pleasure) last week, and had hoped to get a lot accomplished en route. I was thwarted by an expectation that I would work on the train ride down (can you imagine?) and then by a pounding headache (possibly the result of a the bachelorette party the night before) on the way home.
I'm trying to make up for it now, and considering joining Alison's Holiday Gift-Along (see right column) to keep me motivated on this (and other) Christmas presents. I'm pretty sure that my tally would be similar to Dava's: 3 of "aaargh!" completed!
Posted by shannon at 1:47 PM | Comments (2) | For related posts: Cherry Mango, For Mom
November 3, 2003
Cozy Ears
After a few abortive attempts to make a classy-yet-functional ear warmer for my friend Jill's birthday, I came up with this: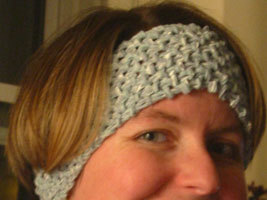 See a close-up here
I'm pretty sure it's going to look better on Jill than it does on me -- she has long, very dark hair; the contrast with the light blue should be pretty.
It's the Berroco Zen (Mushi Gray) and Rowan Calmer (Calmer) knit in seed stitch on size 13 needles. (I can't remember how many stitches I cast on, but it was somewhere between 10 and 15).
Posted by shannon at 11:40 AM | Comments (6) | For related posts: Miscellaneous Small Projects