« August 2004 | Main | October 2004 »
September 14, 2004
California Dreaming
Jason and I are off tomorrow to San Francisco for a looooong weekend (a short week?) with Alaina and Anil. It's my first ever (!) trip to California, and it couldn't come at a better time.
Two things before I go:
1. Who's got the goods on must-visit yarn stores in San Fran? Leave your wisdom in the comments!
2. My apologies to those of you who commented recently only to have your comments disappear into thin air. Once I noticed it today, my MT Superhero got it cleared up right away. So knock yourselves out!
Posted by shannon at 5:19 PM | Comments (2) | For related posts: Knit Gringa, Knit!
September 10, 2004
It's Dizzy-ing!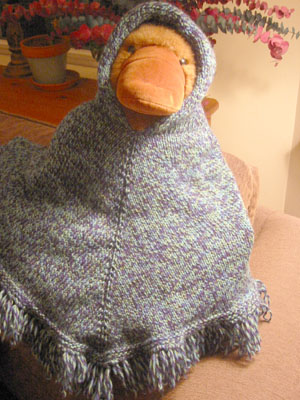 The model? It's Dizzy, the duck-billed platapus!*
Though a mention was buried in the Big News entry, I haven't really posted about the toddler poncho that I'm making for Juli. (Juli is my best friend's two-year-old daughter. She has also been referred to as the Cutest Baby Ever, CBE, and Bulis.)
As you can see, the poncho is all-but-done. I need to finish the I-cord drawstring and sew it into the hood, steam press and trim the fringe, and weave in the ends. In in no rush though, since Juli lives in Nashville and won't likely need a wool poncho for another month or two.
The pattern is Knitting Pure & Simple Child's Poncho and the yarn is Cascade 220 (color #9432). It's my first experience with Cascade 220, which I really like, and the pattern is straight-forward. So far, a winner all around!
*He was given to Jason on the day that Dizzy Gillespie died, and being the jazz devotee that he is, Jason passed the name on to his new stuffed friend as a tribute.
Posted by shannon at 4:46 PM | Comments (5) | For related posts: Juli's Poncho
September 7, 2004
Que pasa aqui?
Welcome to the new and improved gringa.org!
What started out as some minor changes to my knitting blog this weekend morphed into a complete overhaul of all things Gringa. Jason patiently coded features, imported entries, and somehow managed to not only understand what I wanted ("You know, separate entries that only show up on the Project list thingy but don't show up in the normal place.") but to actually implement it. Let there be no doubt about it: I am marrying an MT Superhero.
Here's what's new:
The gringa.org blog and the knitting blog (La Gringa Tejedora) have been combined, and all archives from both blogs are now in one place. I wasn't really posting to the gringa.org blog anymore, but I wasn't quite ready to kill all of my archives (especially entries like these).

Going to the old knitting blog URL will now redirect you here. Go on, try: http://www.gringa.org/knit. Back already, aren't you?

The Projects Lists on the right side are automated now, which will make updating them much, much easier.

Comments will be automatically closed on entries older than 60 days. And not a moment too soon, since I spent the better part of a morning last week dealing with a comment spamming attack that posted about one vile, disgusting comment per minute.

It's pink!
Here's what's left to be done:

Enter all projects onto the nifty new automated Projects List.

Fix the myriad broken links and missing images.

Fix the whatever-you-call-it so that people who were reading the knitting blog through an aggregator will be redirected to this site. (Obviously, given my not-so-profound understanding of this process, Jason will be doing this.)

Update!
Posted by shannon at 11:25 AM | Comments (2) | For related posts: Knit Gringa, Knit!
September 3, 2004
Pretty in Pink?
Some big changes here at Casa Gringa del Queso -- thanks for bearing with me as we work out the kinks!
Posted by shannon at 9:41 PM | Comments (3) | For related posts: Knit Gringa, Knit!
Honeymoon Cami for Jason's sister-in-law-to-be
Posted by shannon at 8:52 PM | For related posts: Finished Projects
September 1, 2004
A Confession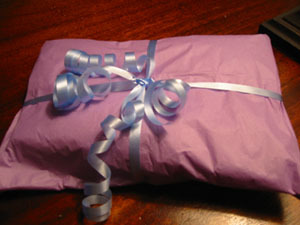 When I posted a little bit ago that I had made a cute sweater for Jason's (wait -- our :) ) niece-to-be, I wasn't telling the whole truth. While I did use that pattern and that yarn to make Rachel a baby sweater, the sweater I posted was actually for Amy's baby Ginger!
I made Ginger's in the 3-6 month size so that she can wear it once it cools off -- I made Rachel's in the newborn size because she's expecting at the end of the year. Laid out next to each other, they are just about the cutest things ever: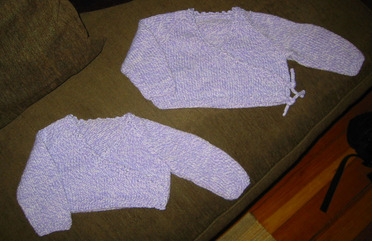 Click to enlarge
For a picture with slightly truer colors, click here
Not long after I took that picture, I hurried to wrap it up and get it to Amy before Ginger decided to make her arrival. Looks like I made it!
Posted by shannon at 11:24 PM | Comments (2) | For related posts: Baby Wrap Sweater, Miscellaneous Small Projects