« September 2004 | Main | November 2004 »
October 22, 2004
Bloglines Bandwagon
Using Bloglines to keep up with your blog reading? Click the button to add me to your feeds! (Don't know what I'm talking about? Read up here.)
Posted by shannon at 11:32 PM | Comments (1) | For related posts:
October 21, 2004
Poncho for Juli in Cascade 220 in color #9432. (Follow progress here)
Posted by shannon at 8:32 PM | For related posts: Finished Projects
Poncho Pressies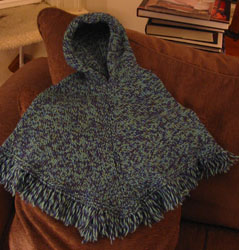 After struggling the spacing on the fringe (fringes?), I finally finished Juli's poncho and it was Tennessee-bound. But wait, what's this? Two ponchos?
Oh yes, that's right. I "forgot" to write about the poncho that I was making for T., Juli's mom. It's essentially carbon-copy of my Francisca poncho, only in blue instead of terra cotta. And since T. is an occasional reader of gringa.org, it's progress could obviously not be documented here.
Both of the ponchos were well-received, I hear, and arrived in time for the slight cooling-off period known as "Autumn" in Tennessee. In addition to being mother and teacher extraordinaire, T. is also the family photographer -- so no pictures of her in her poncho... yet. (*hint, hint*)
Did I mention that Juli's going to be our flower girl? When I told my mom, she wondered aloud whether Juli, because of her young age (she'll be three), might be a bit intimidated by walking down the aisle with everybody looking at her. I have no such worries, I told her, this child was born for the stage. Behold, Juli strikes a pose for her adoring public.

Posted by shannon at 1:48 PM | Comments (1) | For related posts: Juli's Poncho
October 18, 2004
Rhinebeck and Better Than Ever!
My first purchase at Rhinebeck was cotton. There, I said it.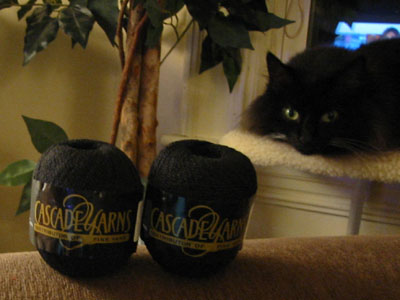 The thing is, I'm allergic to wool. And by "wool", I mean sheep's wool, angora, llama, and alpaca. So while I've been wanting to make myself some socks for a few months, animal-free sock yarn is hard to come by. This Fixation was well priced, and I snapped it up before even realizing that I was probably committing some kind of Rhinebeck cardinal sin.
I quickly atoned for my sin, however. Alison wasn't kidding when she said that we spent a disproportionate amount of time patronizing Morehouse Merino -- both at the fairgrounds and at their store. I bought a few skeins of their 3-Strand yarn for Christmas knitting. My big purchase, however, was a "Melody's Shawl" kit from Morehouse. The pattern isn't on their website yet, but the yarn is variegated lace and I'm fairly sure that the color is "Indian Summer". It's a very cool pattern. It's knit lengthwise in the round and then cut -- yes, I said cut -- to open the shawl and create fringe. Very clever. (How will I wear such a creation, given my anti-animal-fiber immune system? Why, over a turtleneck, of course!)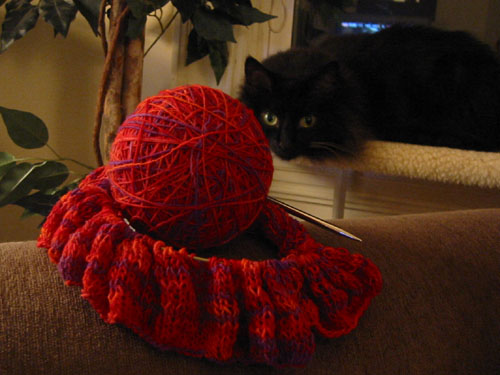 A final note about my companions this weekend. Going to Rhinebeck with Alison is like going to Japan with Hideki Matsui. I met more cool knit-bloggers this way then I ever would have if I had gone on my own! And a special thank you to "the boys" -- both little and big -- for being such great sports while Alison and I touched every single skein of yarn in the fairgrounds.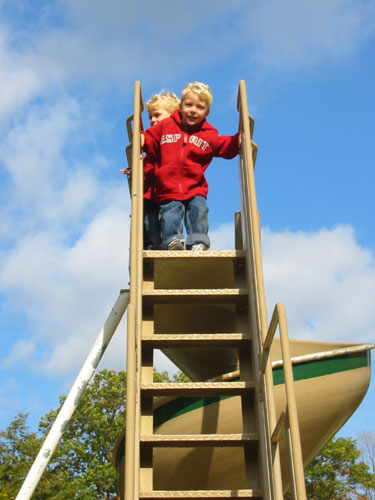 (Little) boys, enjoying a big slide. They were so much fun -- by the end of the second day at the fairgrounds, Benny was heard asking to "go see the yarn". Good boy!
Usually when I take pictures of yarn, Boogie high-tails it out of the frame. Doesn't like having his picture taken without adequate prep-time I suppose. I fully expected that he would do the same tonight, but he stayed put. I think he makes a pretty cute background.
Posted by shannon at 11:03 PM | Comments (1) | For related posts: Melody's Shawl
Llama, Alpaca and Sheep, Oh My!
Nothing like a trip to Rhinebeck to get me back on track knitting-wise! More content to come this evening.
In the meantime, go check out Alison's report (permalink) on our weekend. And keep your eyes peeled for the llama in a sun visor!
Posted by shannon at 11:39 AM | For related posts: Knit Gringa, Knit!