« June 2003 | Main | August 2003 »
July 24, 2003
ChicKami Details
Wow, having this page linked on ChicKnits can really generate some traffic!
I keep getting the same question about my ChicKami (both here and in real life), and it is basically the question that Sharlene asked in my comments. She said: "Shannon, Did you change the pattern in any way? I love how the neckline looks on your Kami--it looks higher than other versions I've seen."
Nope, I stuck to the pattern stitch for stitch. Much to my glee (and much to the surprise of the KnitSmiths), I got the gauge on the first try with the Cotton Glace, so I was even able to use the needle sizes called for in the pattern.
I think that the front of my tank is higher than most is because of the length of the straps. I'm not small-chested, but -- and I hope this makes sense -- I'm short in the chest area. Bonne Marie's straps were 6.75 inches, but knowing that this would make the whole thing droop on me, I made mine exactly 6 inches. I don't know if this will work for everybody, but it's worth a try!
Posted by shannon at 12:09 PM | Comments (1) | For related posts: ChicKami
July 23, 2003
Blockhead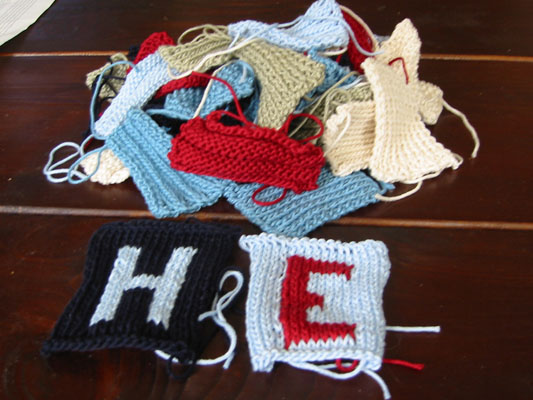 In a comment below, Dava asked what I was working on now. Some of you may remember the last set of baby blocks, and at the Knitsmiths on Sunday I was knitting the tiny swatches necessary for making this next set.
This set is for Jason's brand-new nephew, and my fingers are crossed that the colors I picked match his nursery. I 've decided to knit the letters of his name into the stockinette swatches, and this time I'm trying really hard to avoid the puckering that I ran into previously. (Ironically, I discovered my propensity to pucker while making these blankets for this very same baby.)
I've done two of the letters, and while there is some improvement, there is still some puckering. Look: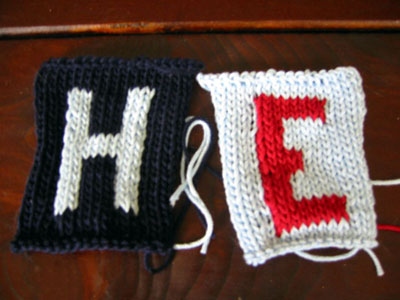 So I'm asking for some help here. And because I am so committed to getting this right I'm willing to post pictures of *gasp* the BACKS of these squares. It's embarassing, but I'm a good tia and I want to get these squares perfect.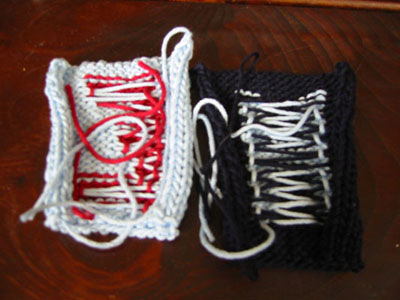 Suggestions?
Posted by shannon at 1:45 PM | Comments (5) | For related posts: Henry's Baby Blocks
Close-up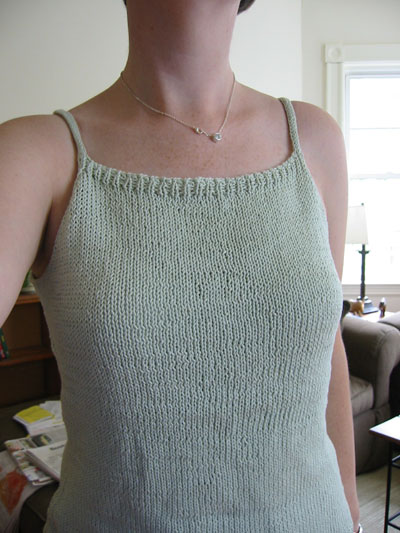 Ta-da! Here's a close-up of the ChicKami. I love it so much that I might be able to forget how boring it got toward the middle, and make another.
Posted by shannon at 1:39 PM | Comments (7) | For related posts: ChicKami
July 22, 2003
All done!
Last week, I emailed Alison of the Blue Blog to inquire about her knitting group the Knitsmiths. I knew that Alison was a Boston-area girl, and I had long planned to email her about good knitting spots in the area. Last week I read in somebody else's blog that the Knitsmiths actually meet here in Brookline -- that lit a fire under me and I sent off the e-mail. She quickly wrote back that all are welcome to drop in and she hoped I would stop by their meeting on Sunday.
My self-imposed deadline for the ChicKami was successful, it was done on Friday night. I blocked it on Saturday and wore it on Sunday; I hoped that if I had trouble finding the Knitsmiths that wearing the latest Alison knit-along would help identify me.
I'm glad I went, it was a blast! Everybody was so nice and so helpful, and Alison and I discovered that we are actually very close neighbors. Gina and I had a series of coincidences: first, we were both wearing our newly-finished ChicKamis. (Yes, I cut my hair last week.) Next we discovered that her husband and Jason are fellows at the same hospital -- her husband started last year so he's a year ahead. Finally, we're both refugees from New York. I was dazzled by May's work, and sorry that I didn't have time to talk to more of the Knitsmiths at the other end of the table. I had a wonderful afternoon knitting, and I will definitely be returning.
Now I'm off to update my sidebar to reflect my current project and to add the links of the people I met on Sunday. I should have some more detailed pictures of ChicKami up soon. Happy knitting!
Posted by shannon at 2:32 AM | Comments (2) | For related posts: ChicKami
July 18, 2003
All Over But the Finishin'
ChicKami is done and I love it! Pictures to come once I'm done with the finishing and blocking.
There's also a chance that Francine will get finished today. Wheeee!
Posted by shannon at 12:22 PM | Comments (1) | For related posts:
July 15, 2003
Chicky Update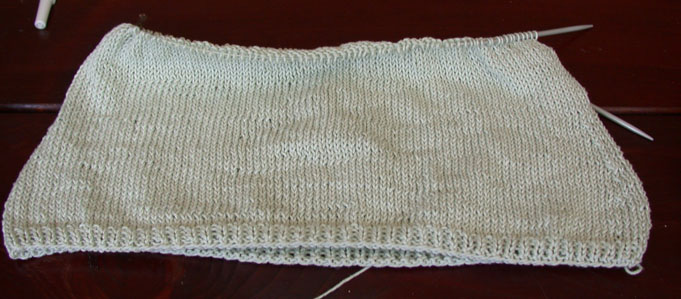 Just a little update on my first knit-along project! She's looking good, though I wish that she'd knit up just a little bit faster. Cotton Glace is pretty and all but it's just so teeny-tiny that I find myself getting bored with my slow progress. Once I get bored, I put it down and then it takes even longer...
Anyway, I have a self-imposed deadline of thie weekend. If the weather cooperates, I want to wear it!
Posted by shannon at 1:01 PM | Comments (2) | For related posts: ChicKami
July 10, 2003
Debut!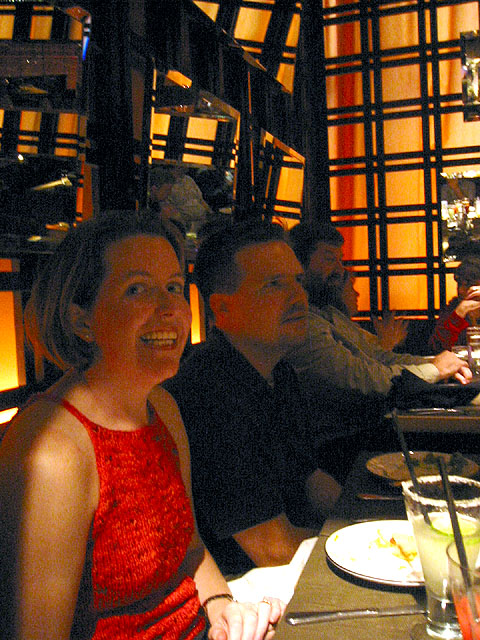 About a week before Jason and I left New York, his family and I threw him a surprise birthday party. In honor of the occasion, I debuted the Waikiki Tank! I got so many compliments on it, one of Jason's friends even said, "If I saw this in a store, I would pay [*pauses to think*]... many, many dollars for it!" My mom asked me to make her one, which is the highest form of flattery, I think.
Picture courtesy of Anil!
Posted by shannon at 1:26 AM | Comments (1) | For related posts: For Me!, My Waikiki Tank
Update
Just a little update on my progress in Francine, version 2.0.
I'm still optimistic that re-writing the pattern will solve my strange-body-shape problems, but I've had to re-re-write it in a few places when it became obvious that my revisions weren't going to work out. Since I am the great shoulder-less woman, I had doubled the armhole decreases to narrow the shirt in the chest and up to the straps. (The whole thing was too big in the chest in the beginning -- from armpit to armpit, I am very narrow.) Doubling the decreases turned out to be a little too aggressive, I've frogged down to the start of the armhole and am now alternating the decreases between 1X and 2X.
If the re-write (or the re-re-write, I should say), turns out to have been successful, there should be pictures in the next few days!
Posted by shannon at 1:12 AM | For related posts: Tina (neé Lindsay, neé Francine)
July 8, 2003
Knitting Along

Alison made me do it. I've been waiting for an opportunity to do a knit-along, and this one happened to coincide with my first trip to my new LYS here in Brookline.
Short version of last two weeks: Jason and I moved out of New York to Brookline [just outside of Boston] at the end of June. I'm here for an indeterminate amount of time [until I get a job], but it only took me about 3.5 seconds to locate the closest yarn store to our new digs. We've been working so hard on fixing up the new place that Jason mandated a trip as a reward for my help. I obliged, of course. ;)
I'll be casting on for ChicKami as soon as I can finish Francine. I got 5 balls of Rowan's Cotton Glace in Bud (Bud? Jokes. too. easy. Must. resist. temptation.) and one ball in white. I am hopeful that five balls will be enough -- I only grabbed the white ball because there were only 5 balls of the green, and I'd rather have the tank be a solid color.
Tomorrow, I'll be spending the day at a friend's house to wait for the installation of their cable and the delivery of some furniture. This means that there is no painting, furniture building, or decorating that I can do -- it's several hours of uninterrupted knitting time, and I'm helping out a friend to boot. That, my friends, is what I call pure, guiltless bliss.