« July 2003 | Main | September 2003 »
August 29, 2003
Secret Project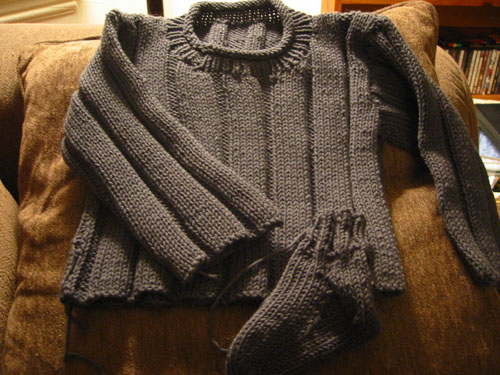 So this is what I've been hiding from you. Last week, Alison and I went to the far-away yarn shop and I (desperate for a project amidst my stress), picked up this pattern. I figured it was a good pattern to have around, and I decided that I would make it for Jason's nephew Henry and that it would be this year's first Christmas project.
I used Debbie Bliss' wool cotton in Ultramarine, and when the sweater was done I had some yarn left... so, I started my first-ever sock! I used this pattern (changed it a bit, of course) and it was pretty straight-forward. It turned out a bit big, but I'm hoping that Henry can wear them as "shoes" over smaller socks this winter.
I'm off to knit that lonely sock's partner!
Posted by shannon at 11:36 PM | Comments (2) | For related posts: For Henry, Miscellaneous Small Projects
August 28, 2003
Knitting for Sanity
I had gotten into a good system of regular updates here when *blam!* -- real life hit. Lots of decisions, arrangements and purchases to be made and this space got pretty darn quiet.
This is not to say that I haven't been knitting. As always I have been knitting my way through stress. El Mango Negro is knit and sewn, but waiting for finishing. And I chose, started, knit and seamed an entirely new project since I last posted here. I may even have a solution for poor, neglected (traitorous) Francine.
Now that things are a little more settled, I hope to get back on the horse a little. Expect pictures today!
Posted by shannon at 2:00 PM | Comments (2) | For related posts: Knit Gringa, Knit!
August 19, 2003
Photographic Evidence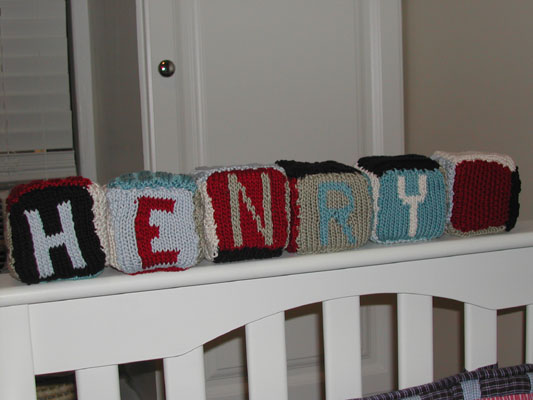 I finally got some pictures of the baby blocks I made for Jason's nephew and as promised, I'm posting them here. I put a close-up in the"more" section, in that shot you can see how the knitted covering tends to drift around the cubes of foam. You can also see some other imperfections, but my mother always told me that every masterpiece has a flaw!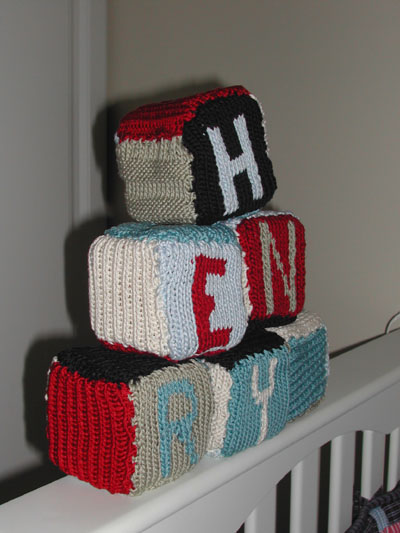 Posted by shannon at 10:26 PM | Comments (4) | For related posts: Henry's Baby Blocks
August 18, 2003
ChicKami for Mom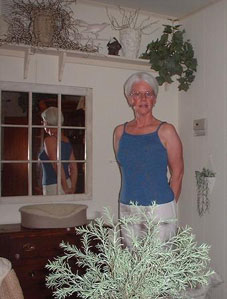 My mom is so cute. She sent me this picture of her in the ChicKami that I made her since I didn't have time to take a picture of her before she left town two weekends ago.
I was sure that I was finished with making ChicKami, but yesterday at the KnitSmiths, somebody (I think it was Amber?) mentioned the idea of a ChicKami with some cables. Hmmm.
Posted by shannon at 2:33 PM | Comments (4) | For related posts: ChicKami
August 14, 2003
El Mango Negro!
Alison asked in the comments of the previous entry if I had cast on for Mango yet. I guess you could say so.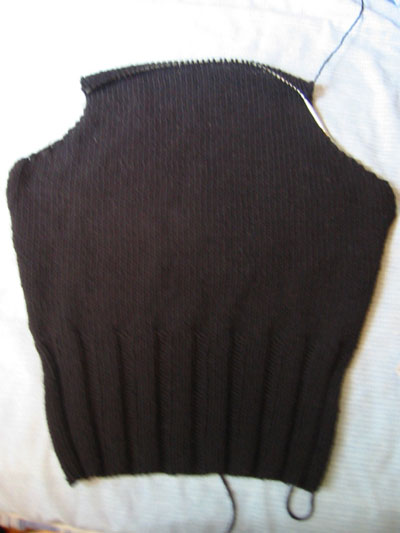 See, I'm doing a lot of hurry up and wait right now with the job situation. I'm so distracted that I can't do anything that requires planning or sustained attention which means that I'm reduced to surfing the web and knitting. El Mango Negro is the fruit of my stress!
Posted by shannon at 1:16 PM | Comments (2) | For related posts: El Mango Negro
August 13, 2003
Nicer with Two
I had never really noticed it, but knitting has always been a fairly solitary activity for me. I've dragged most of my friends and my mom -- even poor Jason! -- to yarn stores, but the most they'll usually do is opine on colors. Since starting to go to the KnitSmiths on Sunday afternoons, I've slowly been realizing how helpful it can be to have fellow knitters with whom to talk things over.
Then, yesterday, Alison and I walked up to A Good Yarn. It was so fun to browse with a fellow knitter. So often I leave the yarn store frustrated and overwhelmed with empty hands or an empty wallet and the wrong yarn. Not this time! I went in planning to get some substitute yarn to make the cable hooded jacket (scroll down!), but after a few minutes with the calculator (followed by a few moments of hysterical laughter) I knew that I couldn't afford to make this sweater just yet.
Did I give up like I normally do, and leave with nothing? Did I throw up my hands and throw down my credit card and buy the yarn anyway? Heck no! With Alison to bounce ideas off of, I rebounded from the disappointment. I ended up with seven balls of Wellness in black and she offered to loan me the All Season's Cotton book so that I could make Mango. And I didn't break the bank!
P.S. - Thanks, Alison, for lending the book... and moral support!
Posted by shannon at 1:58 PM | Comments (3) | For related posts: Knit Gringa, Knit!
August 11, 2003
Berries!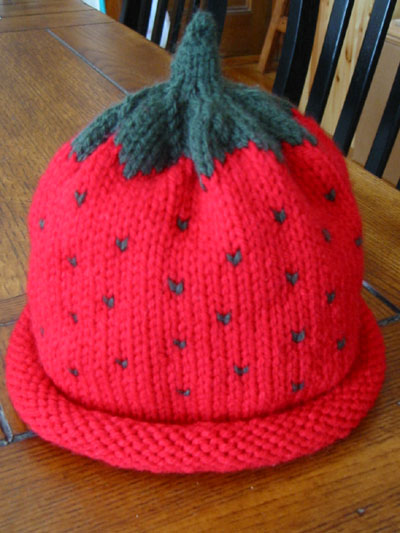 When at the Yarn Barn in San Antonio last March, I broke down and bought the pattern for Ann Norling's berry caps. I didn't do anything with them right away, but I recently found myself without a major project so I decided to try one.
I did most of it during the KnitSmiths yesterday, and finished it last night. Now I'm on to a blueberry!
Posted by shannon at 12:22 PM | Comments (5) | For related posts: Baby Hats
August 6, 2003
Yaaaaaaaaaaaarn
I walked out of the KnitSmiths on Sunday evening chanting "The Fabric Place, The Fabric Place, The Fabric Place" so that I would remember the name of a store that of which many of the ladies had spoken so highly. I went home to have dinner with my parents (who were in town on their way to Vermont for the week), and in the chaos of their visit, I promptly forgot all about The Fabric Place.
Two mornings later, my parents left for Vermont. I printed out their directions, pointed them in the direction of 95N and off they went. Less than an hour later, my mother called, all excited and breathless.
"Shannon! Your dad and I just stopped for lunch at McDonalds before getting on 93 North, and I just found the most amazing fabric store. And guess what? It has lots and lots and lots of great yarn -- and not the cheap stuff, either! You'll have to come up here...."
"Cool! What's it called?"
"Um, lemme look. I got you a brochure about their classes and events too. Let's see... here it is. It's called The Fabric Place."
Posted by shannon at 12:56 PM | For related posts: Knit Gringa, Knit!
August 1, 2003
Odds and Ends
Two knitting things that are making me happy right now:
1. I got Debbie Bliss: Cotton Knits for All Seasons from the library, and I'm thinking of making the Cable Hooded Jacket next.
2. I'm back in the Bay State for this weekend so I can go to the KnitSmiths!
Posted by shannon at 12:59 AM | Comments (3) | For related posts: Knit Gringa, Knit!
ChicKami Numero Dos!
After I finished my ChicKami and the Baby Blocks, I took a short knitting break. I had been logging a lot of knitting hours working on those two projects and when I wasn't knitting I was painting. With all of that manual, repetitive activity I developed my first ever knitting injury! The palm of my left hand, at the base of my index finger, got sore and even a little puffy. Considering that I already take Celebrex for joint pain in my feet, this must have been a pretty irritated joint!
So I took a wee break and now I'm back on the ChicKami bandwagon... this time it's for my mom!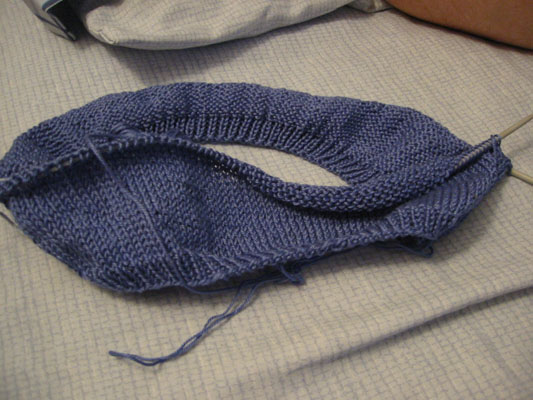 Pretty blue, isn't it? It's Patons Grace in Azure, and it's reasonably priced too (about $5 per skein). It's also more slippery and shiny than Cotton Glace, and fun to knit with. Whee!
Posted by shannon at 12:46 AM | For related posts: ChicKami
Harrumph
I took Francine home to my mom for her advice last weekend, but we didn't have time to do any fixing. Hopefully we'll get to it this weekend, when she and my dad arrive in Boston to see how much progress Jason and I have made on the apartment!
All I have to say is that if this version of Francine doesn't work out, I don't know what I'm going to do. The yarn (Berocco Denim Silk, 20% silk and 80% rayon) is starting to look somewhat worse for the wear after two knittings. So give it to me straight, fellow tejedores: if I have to frog this halter, can the yarn be salvaged?
Posted by shannon at 12:10 AM | For related posts: Tina (neé Lindsay, neé Francine)
Doh!
I finished the baby blocks -- and not a moment too soon! They were presented to Jason's nephew (well, his parents really) on Sunday and they seemed thrilled. And my memory had served me well, the colors that I picked matched his nursery nicely.
It wasn't until I was back in Boston, feeling quite smug for the my success with the blocks, that I realized that I hadn't taken a picture of them once they were finished. I e-mailed Jason's sister and asked her to snap one for me and I'm sure she will... just as soon as Baby H. stops being a fussbucket for most of his waking hours!
Oh, and thanks to everybody who gave advice on the puckering problem I was having -- I managed to do a better job on the last three letters and all of them looked better once they were blocked. In the future, I'll either do the letters through duplicate stitching or intarsia. Thanks for the help!
Posted by shannon at 12:03 AM | For related posts: Henry's Baby Blocks