« October 2004 | Main | December 2004 »
November 22, 2004
The Most Wonderful Time of the Year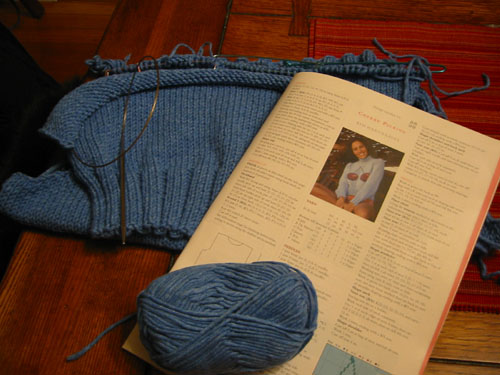 A few months back, I showed my mom a picture of Cherry Picking
-- the pattern that her Cherry Mango is based on. My mom -- ever the classy dame -- fixated not on the "cherry boobs", but on the blue.
"Ooooh. You could make me another one of those in blue, if you wanted."
So began Holiday Knitting v.2004.

Posted by shannon at 10:17 PM | Comments (2) | For related posts: Blueberry Mango, For Mom
Blueberry Mango, a blue version of Cherry Mango -- still sans cherries, of course -- for my mom. (All Seasons Cotton, True Blue)
Posted by shannon at 9:49 PM | For related posts: Finished Projects
November 4, 2004
It's the little things...
Last month, I shamefully dropped the ball on my mother's birthday. My reason, though far from an exculpatory one, was that I was in the middle of my first Wedding-Related Meltdown. I spent her birthday weekend at my parents', but the only present I was able to manage was to promise to try on any wedding dress she wanted, no complaints or questions asked, for the whole day. While she seemed genuinely thrilled at the prospect, it was hardly worthy of her birthday! So when I came back to Boston, I knit her up a quick washcloth from Weekend Knitting. It's a bit belated, but I think she'll like it.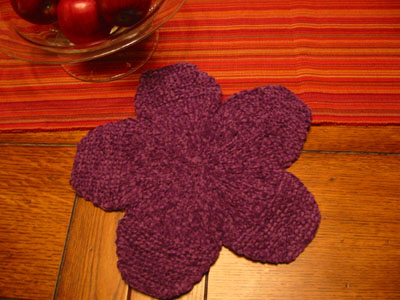 Posted by shannon at 11:23 PM | Comments (1) | For related posts:
November 3, 2004
Melody's Shawl (a kit from Morehouse Farm Merino, color: Indian Summer)
Posted by shannon at 10:36 PM | For related posts: Finished Projects
By the Book
The last time I was at Knitsmiths, I was knitting away on Melody's Shawl. Everybody was fascinated by the pattern, and at least a little horrified by the idea that upon completion of the knitting that the final step was to cut the shawl in half. I said that I'd be sure to do the cutting at the next Knitsmiths so that we could all share in the anxiety. Of course, I missed the next Knitsmiths and then couldn't wait to cut once I finished the knitting. So, for the benefit of those who also felt a little nauseated at the idea of taking scissors to knitting, here's how it went. (Text in italics are excerpts from the instructions.)
Shawl is knit in the round. After reaching desired width, bind off all but 16 stitches.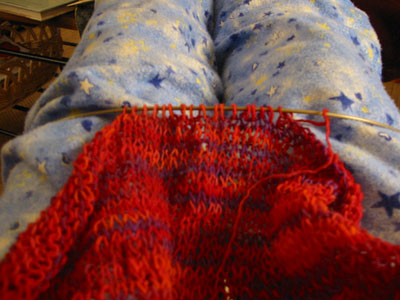 Drop remaining stitches from needle.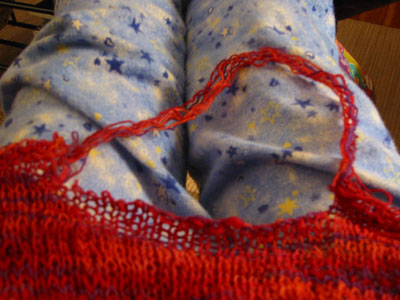 Unravel stitches between bind-off.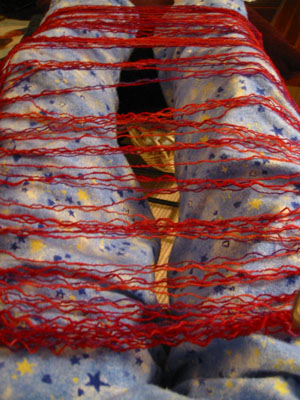 Cut straight through the middle of unraveled stitches.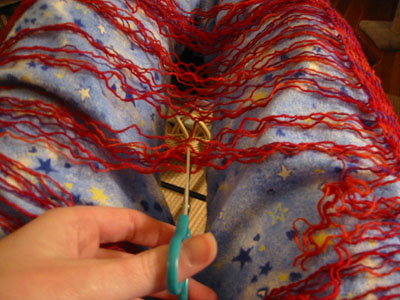 Open shawl. Wash shawl in warm water... [Right. As if I'd do the finishing before I took the pictures.]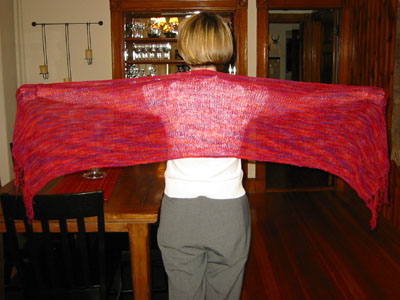 All wrapped up!
P.S. Process pictures were taken during a late-night knitting session with two of my closest buddies. Dig the PJ bottoms? The stars glow in the dark. Jealous, aren't you?
Posted by shannon at 10:03 PM | Comments (6) | For related posts: Melody's Shawl
November 1, 2004
Not Really Knitting, But...
We enjoy any evening with Alison, her hubby, and the boys, but the Cutness Quotient went through the roof yesterday when they came over for dinner after stripping the neighborhood bare of Halloween candy.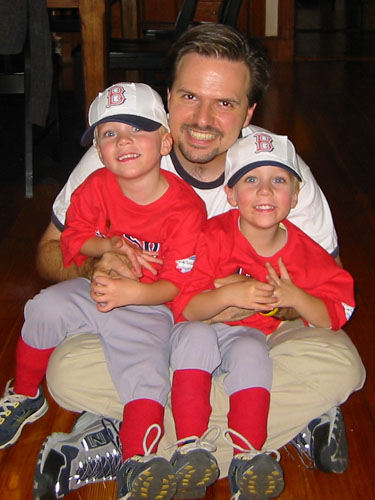 Jason snags two Mini-Red Sox
We will return to actual knitting content tomorrow. Really. I'm serious!
Posted by shannon at 10:57 PM | For related posts:
To Dye For
After trying on bridesmaid dresses with two of my friends yesterday, we were chatting with the saleswoman about their ordering procedures. In particular, I was curious about how to handle the fact that four of my five bridesmaids live in different cities... and none of them live in my city.
Saleslady: Well, you can order the dresses at any of our locations, but you should order all of them together and at the same time. This is important because you want the dresses made from the same dye lot. A dye lot is..
Me: Oh, I know what a dye lot is.
See? Knitting does have its uses in everyday life!

Posted by shannon at 9:29 PM | For related posts: