« January 2005 | Main | March 2005 »
February 28, 2005
Good thing I waited
I was starting to get antsy about having liberated all of this Calmer, and no ideas for a project. Alison's been saying that I should wait for her MagKnits pattern. She was right.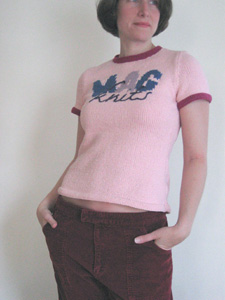 Alison's project archive / Pattern on MagKnits
Waist shaping? Capped sleeves? Sassy design element? Check, check and check.
Posted by shannon at 1:23 PM | For related posts: Fixin' Vixen in a T-Shirt
February 10, 2005
Out of Order
We all have our quirks, and one of mine is a resistance to planning ahead when it's avoidable. Knitting a sweater usually goes like this: Wind one skein of yarn into a ball, start knitting. When finished with first ball, wind another skein into a ball and continue knitting. Repeat until all pieces are finished. Block all pieces. Wait for pieces to dry. Seam all pieces. Remember I need buttons. Go buy buttons. Attach buttons.
There's nothing wrong with it, per se, but the system is wracked with inefficiencies. Why not wind all the skeins at one time? Why let the first few finished pieces sit there, balled-up in a pile, when they could be blocking? (And imagine the heartache I would avoid if by blocking the first piece before going on to the next, I discovered gauge problems early!) And why wait to buy buttons when I usually end up buying them from the exact same place I got the yarn?
The lack of a schematic and crazy gauge instructions in the pattern had me on heightened alert for problems as I started the black cardi. It's not been easy knitting, either: the combination of "sticky" yarn and equally sticky bamboo needles leads to tired, achy hands and arms, even with frequent breaks. By the time I started shaping the armholes on the first piece, I vowed that I would block and measure it to make sure that my gauge was OK before knitting even one stitch on the next.
Long story short: I'm well on my way to my first well-planned sweater.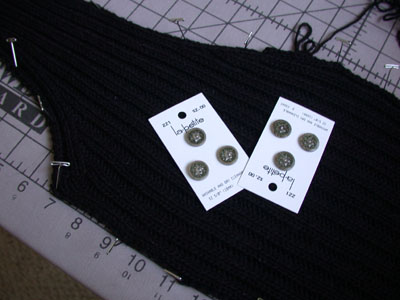 Measures up just right when blocked. Whew!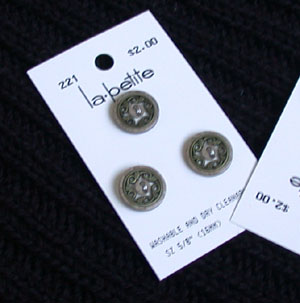 I even have the buttons!
Posted by shannon at 11:43 AM | Comments (5) | For related posts: Black Cardigan
February 9, 2005
The City of Brotherly Heartbreak
I spent the better part of last week coaching Lucy on the Eagles cheer, in preparation for our Superbowl party. "E-A-G-L-E-S," I'd spell, and she'd chime in with "Eagles!" (Although she actually pronounces it, in proper Philly fashion, "Iggles!")

It was adorable Saturday. Super-cute on Superbowl Sunday. But then the Eagles lost, and Lucy keeps forlornly chanting "E-A-G-L-E-S! Iggles!" I think every time she does it, it's like a knife in her poor father's heart.

I imagine that all those who consider themselves Iggles fans have their own stories of despair this week. Mine stems from being an Eagles fan in Boston.
Every morning, from the time I get in the shower until the time I arrive at my office, I listen to the radio. On Monday, I had two radio options: the morning talk shows, which were all about how great the Patriots are* and the local NPR affiliate which was starting their Valentine's Day fund drive by offering a dozen roses for every listener that pledged $125. Just when I thought it couldn't get worse, the NPR talking heads suggested that listeners who pledged might want to consider sending their roses to Donovan McNabb in gratitude. For a news junkie/Philly girl, these were lean times.
*Lest you think I'm unfairly biased, I know that the Patriots are a great team. They just happened to beat my team, so I wasn't all that eager to listen to wall-to-wall coverage of their greatness.
Posted by shannon at 7:04 PM | Comments (1) | For related posts: La Gringa Habla
A New Old Faithful
Is there any item of clothing more essential to a woman who works in an office than the black cardigan? I think not. Because despite the fact that we have mastered space travel, invented telephones that take pictures, and can treat many of the diseases that ravaged generations past, we remain slaves to the most intractable challenge of all: regulating temperatures in an office building.
I've been on a utilitarian kick of late, trying to knit things that I will actually use rather than being sucked in by pretty pattern pictures or tempting Knit-Alongs. So when I received the 1,000 Sweaters book for Christmas, I started planning the ultimate in utilitarian knitting: the office cardigan in black. I spied a great deal on a bag full of Marks & Katten Bom Ull at the Wild & Woolly sale in January, and Alison and Colleen enabled me agreed that it would make a good cardi.
I knew that the gauge would take a little time and concentration to get just right (the Bom Ull is a bit heavier than called for, and I am by nature a loose knitter), so I took my time. It didn't help that the book doesn't include schematics and only provides numbers for length and bust measurements (even for the sleeves!). Oh, and gauge is only given in stockinette.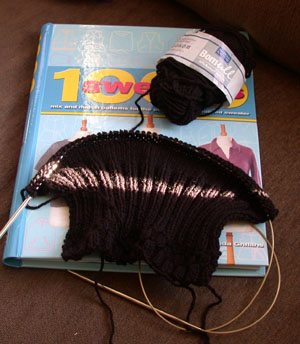 That's one big swatch!
After trying several different needle sizes, I decided to use 5s and knit down a size to correct for the discrepancy. I'm hoping the all-over rib will provide me with a little wiggle room if my calculations aren't just right!
Posted by shannon at 11:46 AM | For related posts: Black Cardigan
February 8, 2005
Famous Last Words
God help me, I made myself a pair of socks. And I'm considering another pair. What's happening to me?!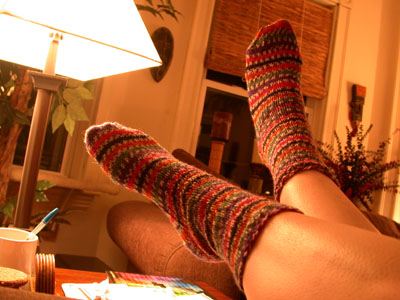 The colors of the sock are truer when I use the flash, but unfortunately so is the
blindingly white color of my my skin. So you only get this little peek.
These socks make me happy for a reason unrelated to knitting. You see, I have the feet of an eighty-year-old woman. As my feet have gotten worse over the last few years, I've embarked on a seemingly endless quest for the Perfect Shoes. Such shoes would (1) not do any additional damage to my bone structure, (2) allow me to wear my special, made-just-for-me inserts, and (3) not be hideously ugly. Of those requirements, the third is by far the most difficult to meet. Anyway, after having had some success with Land's End shoes, I just invested in a pair of Land's End Hand-sewn Clogs (on sale!), my first ever foray into the world of clog-like shoes. I cannot deny that they are comfortable and good for my feet, but I've never been a huge fan of the way clogs look so it's a bit of an adjustment. Wearing crazy-colored, hand knit socks that peek out the back of my shoes, however, is helping!
Posted by shannon at 11:12 AM | Comments (6) | For related posts: For Me!, Socks
Posted by shannon at 10:43 AM | For related posts: Finished Projects
February 3, 2005
Dream On
Did I ever tell you about my Dreamy Creamy? No? Well, here's the short version.
Dreamy Creamy was my engagement present to myself. I saw the pattern (WARNING: Links to a Word document.) on J-Strizzy's blog and loved the idea of a sweet, empire-waist top made of Calmer. She had designed the shirt for herself, so I knew I'd have to make a some adjustments. It took a while, but by the time I finished it I was satisfied that I had adapted the pattern for myself.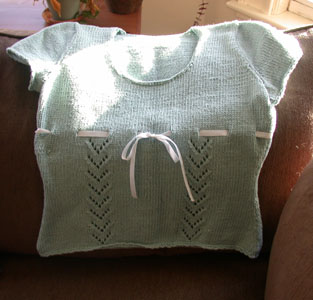 Success! Well, kind of...
Cute, right? Well, sure, when it's laying there all pretty on my couch. I actually wore it a few times, but I had missed one important adjustment: it was a bit short in the upper torso. This meant it rode up every time I so much as lifted an arm, and that pretty ribbon band landed right in the middle of my... well, you get the idea. Next thing I knew, all that pretty Calmer was just hanging in the "eh" section of my closet. And that just won't do.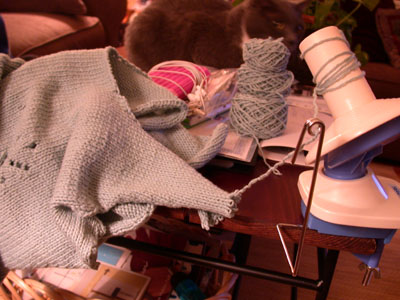 Let's get fixin'!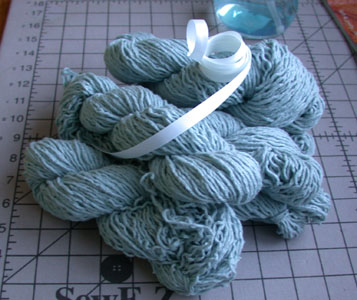 In hanks, ready for a thorough bathing
Here's where you come in. Does anybody have any experience with recycling Calmer? How does it do? Any tips? And most importantly, what should I make with this yarn?
Posted by shannon at 11:00 AM | Comments (1) | For related posts: Fixin' Vixen in a T-Shirt