« December 2004 | Main | February 2005 »
January 28, 2005
Posted by shannon at 10:45 AM | For related posts: Finished Projects
Socks? What Socks?
My general perspective on socks is the same as Alison's: I can't want to make the socks.
I had tried numerous times to overcome this prejudice, but all previous attempts left me with nothing more than half a sock. I'd grow tired of the fiddliness, get bored with the slow progress and cast it aside in favor of something, well, less annoying.
How, then, did this happen?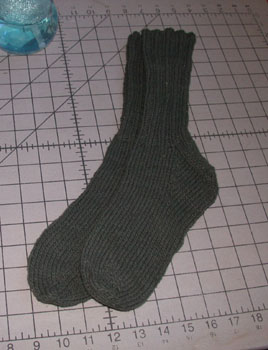 Who are they for? I'll never tell.
I don't know if it was the pattern (Ann Norling's Adult Basic Sock), the yarn (Morehouse Merino 3-strand), or the needle size (6) but I managed to get through two whole socks this time. And it wasn't that bad!
Don't get me wrong, I'm not saying that all of a sudden I can want to make the socks. But after this turn of events, who knows?
Posted by shannon at 8:03 AM | Comments (5) | For related posts: For Jason, Socks
January 21, 2005
Holidays (Extended Play Version)
File under sad, but true: it's late January and I'm still winding up my Holiday Knitting.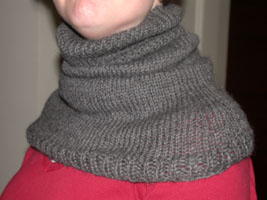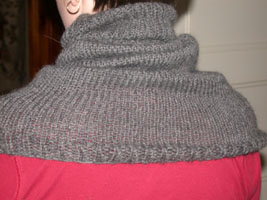 This was a special order item. Jason's mom has a bright red neck warmer/cowl that she absolutely loves. She asked me to replicate it in a more subdued color, and I jumped at the chance. Before I jump into my normal project description, however, let me say a few words about my knitting instincts. They are not what you would call "good". In fact, they are usually dead W-R-O-N-G. For a reason that I cannot explain, I was blessed with good instincts for the duration of this project. Such a rare series of good decisions is worthy of enummeration!
Good Instinct #1
I used Peruvian Collection Highland Wool in Oxford Gray Heather. In the interest of warmth, I initially cast on enough stitches to double-knit the cowl. I made it about four inches before I realized that it just wasn't going to work. The double knitting made the tube very stiff, and Jason's mom is all about the drape. (The Good Instinct here is that I only knit about four inches before I realized it wasn't working.)
Good Instincts #2 and #3
I ripped it back and started again (#2). To avoid a roll at the bottom, I cast on with size 11s and did several rows of K1P1 ribbing (#3) before switching to the size 7s I used for the rest of the cowl.
Not only did the loose ribbing keep rolling to a minimum at the bottom, it also matches the ribbing at the top. The top ribbing is modeled exactly on Jason's mom's current cowl. In fact, she told me that her favorite thing about it is that it stays up when she pulls it "up to my glasses" to keep her face warm in the cold. In order to insure this effect, I went down a needle size for the last inch of the top ribbing. Bad call - when I bound off and went to try it on, the opening at the top was too small. (IF we were keeping track, this would be Bad Instinct #2; #1 would have been to try to double knit it.)
Good Instinct #4
I ripped back an inch, and stayed with the no. 7s up to the last row. Then I did something radical: I switched up a needle size and did the tubular cast-off. Montse Stanley, who was gifted to me for Christmas, held my hand as I finished it off.
If anybody's interested in the pattern for this, leave a comment and I'll type it up for you. It's a pretty fast knit and in the brief period that I had it on for picture taking purposes ("Quick, take the picture before the hives kick in!"), I found it to be very warm.
Oh, and one more thing... any ideas about what I can do with several unused balls of this yarn?
(ETA: I've added the pattern in the "more" section!)
Pattern
Yarn and needles: Whatever strikes your fancy, so long as you get gauge. (The needles must be circular, 20" or shorter)
Gauge: 4 stitches to the inch (16 sts = 4")
CO 112 stitches onto needles several sizes larger than the needles you'll use for the body. Place marker and join
Rows 1-6: K1, P1, repeat to end. (Ribbed section should be 1.5 inches)
Row 7: Switch to smaller sized needles. K 56, pm, K to end.
Continue knitting all stitches. When stockinette stitch section measures 1.5 inches, knit the following decrease row: K1, K2tog, K to 3 stitches before first marker, SSK, K1, slide marker, K1, K2tog, K to 3 stitches before second marker, SSK, K1.
Continue stockinette section, doing a decrease row every 1.5 inches, until piece measures 15 inches and there are 80 stitches. (You will probably have to knit about 1.5 inches even after the last decrease row in order to reach the 15 inch length.)
Next Row: K1 P1, repeat to end.
Repeat this row until the ribbed section measures 6.75 inches (or desired length).
Bind off using tubular bind-off method, or your preferred elastic bind-off.
Posted by shannon at 4:00 PM | Comments (6) | For related posts: Christmas Knitting 2004, For Shirley, Mother-in-Law Cowl
January 18, 2005
I'm Not a Scofflaw, Really!
Apparently, I'm not the only one who has been asked to stop knitting during takeoff and landing!
For the record, I have absolutely no problem with obeying safety- and security-related rules as they relate to air travel. I like rules, particularly ones that make sense. The Transportation Safety Administration's take-over of airport security screening was the best thing to ever happen to knitters who fly, as far as I'm concerned. Security had previously been paid for by the airlines, and each airline was only responsible for the security at its own terminal -- so it was possible to have several different contractors running the checkpoints at a single airport, each of which had its own rules about the admissability of knitting needles. Now that the TSA people are the only game in town, and they've included knitting needles on the Permitted and Prohibited Items List, we have a rule that applies to all flights that originate in the United States. And like I said, I like rules.
A lot of you commented that you thought it was because knitting needles would be dangerous in the event of a crash or serious turbulence, and that both of those things were more likely at takeoff and landing. I hinted in my last entry that I suspected that was the reason, but it begs two questions: Why did she fixate on my knitting, and ignore other potential projectiles (books/pencils/pens) sitting all around me? And if my knitting needles are at risk of becoming dangerous airborne projectiles, why on earth is this the first time I've ever been asked to stow them during takeoff and landing? As I mentioned in my last entry, I travel by air frequently (8-12 trips per year, I'd estimate) and this has only ever happened once. In fact, Jason and I flew this past weekend and my knitting during takeoff and landing got no attention whatsoever.
I have one more travel-related story, but I'll save it for later. In fact, I hope to post some actual knitting content -- pictures and everything -- before boring you with another text-only entry about air travel! Stay tuned.
Posted by shannon at 1:01 PM | Comments (2) | For related posts: Knit Gringa, Knit!
Mother-in-law cowl in Peruvian Collection Highland Wool (Color: oxford grey heather)
Posted by shannon at 11:24 AM | For related posts: Finished Projects
January 14, 2005
...When You Pry It Out of My Cold, Dead Hands
Jason and I are New Jersey-bound this weekend, which reminds me of an experience I'd been meaning to ask you all about. The last time we flew to vist my parents, there was terrible weather. There were delays everywhere and while travel delays suck, at least I had my knitting.
And that's where it gets weird -- my knitting. We boarded the plane, and after quite a while we finally got clearance to take off. As we taxied to the runway the flight attendant did her final walk-through, checking that everybody was off their cell phone and seat-belted in. When she got to my row, she looked at me and told me I had to put my knitting away until we had taken off.
Not wanting to be arrested for the federal crime of ignoring the instructions of a flight attendant, I complied despite the fact that it was an absurd request. Knitting isn't an electronic device, and it's not carry-on luggage which must be safely stowed. Was my knitting was somehow considered dangerous in the event of unexpected turbulence during take-off? If so, how come Jason was allowed to keep reading his hard-back book?
I calmed myself with the knowledge that take-off is short, and as soon as we were safely aloft I got back to knitting. Forty-five minutes later I saw the sparkly lights of the Ben Franklin bridge, signalling that our weather-delayed trip was nearly over. Or not. The pilot came on and announced that we would have to circle for a while because Philadelphia was backed up. We were to keep our seat-belts on and our electronic devices off so that we could land with as little delay as possible once he got the go-ahead from the tower.
At the end of his announcement, the flight attendant breezed through the cabin and -- you guessed it -- told me I had to put my knitting away. Before I could even protest she was gone, leaving me with no option except to sit in bored silence while Jason read his hard-cover book as we circled. For an hour.
I fly frequently for work and play, and this had never happened to me before. We were flying Southwest, which we always fly when we visit my parents. It was extremely strange. Has anybody ever experienced anything like this?
Posted by shannon at 4:18 PM | Comments (6) | For related posts:
January 13, 2005
Deja Vu, All Over Again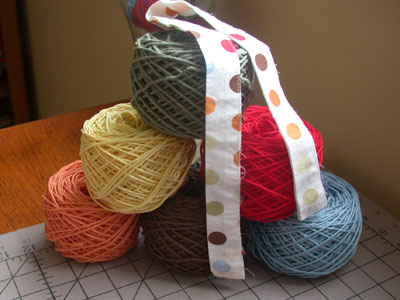 Her wardrobe crisis now behind her, I'd say that Sydney needs some baby blocks! I picked out the yarn colors and wound the yarn over the weekend, and I've already started making process on the squares. I always forget how fast they go.
The yarn is Tahki Cotton Classic except the sage green, which is Rowan Handknit DK. I nabbed the fabric swatch from Syd's grandma (Jason's mom), who was hemming curtains for the nursery last time we were visiting. Made color selection much easier!
Posted by shannon at 1:45 PM | Comments (4) | For related posts: For Sydney, Syd's Baby Blocks
January 10, 2005
Posted by shannon at 12:48 PM | For related posts: Finished Projects
Bad Pattern. No Donuts for You!
I got Last Minute Knitted Gifts before Christmas, but didn't get around to trying any of the patterns until this weekend. I'm at another one of those periods in my life where babies are popping up like crazy among my friends, so I thought I'd try the Child's Placket-Neck Pullover.
The pattern call's for Koigu's Kersti, but I opted to go with Debbie Bliss Merino DK instead. I cast on Thursday evening, and made good progress over the next day or so. Until I reached the sleeves.
There is bad-ness in this pattern, friends. Lots of it. I spare you the details, but if you are struggling with this pattern I will tell you this: (1) if it seems weird to you that all of the raglan decreases are after the markers, you're right (should be: SKK, marker, K1, K2tog), and (2) you're not losing your mind, the pattern really doesn't ever tell you what to do with those 32 (total) underarm stitches that are still on stitch holders (solution: graft them using kitchener stitch).
I assumed that since the book was published in October 2004 that there would be no errata information out there yet. Oh, how I underestimate the Internet! I could have saved myself a hours of frustration with a simple Google search. So despite the fact that the pattern in the book is infested with bad-ness, I give credit to the author for posting corrections in a timely manner.
I finished the sweater late Saturday night, and blocked it on Sunday. All that's left is sewing on buttons. It's really a very sweet sweater, so I suppose all's well that ends well.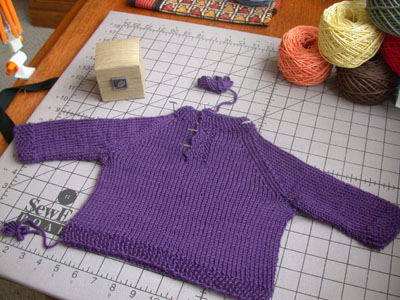 Posted by shannon at 11:29 AM | Comments (5) | For related posts: Purple Placket Sweater
January 9, 2005
Dress, ring, yarn, flowers... wait, YARN?!
Colleen wrote today that she had unexpectedly found a knitting article in her Cooking Light magazine.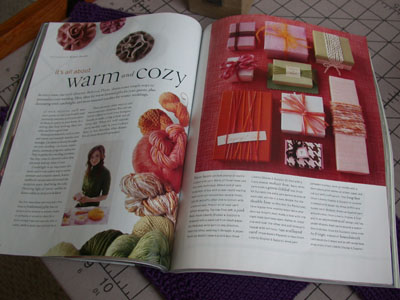 This just happened to me in the last week. I was sitting with a magazine in my lap, but I was talking to Jason and watching television at the same time so I wasn't giving it my full attention. When I saw the pretty yarn, I left it open in my lap so that at the next pause in conversation/commercial I could give it a better look.
When I finally got around to looking at it, I realized what I was seeing. This page of pretty yarn was in the middle of...
... a wedding magazine.
And for the record I will not be using yarn as a "decorative element" at the wedding. I love yarn as much as the next knitter, but a girl's gotta know when to say when. And besides, can you imagine wasting all of that perfectly good yarn?!?!
Posted by shannon at 10:48 PM | Comments (4) | For related posts:
January 8, 2005
Graceful Poncho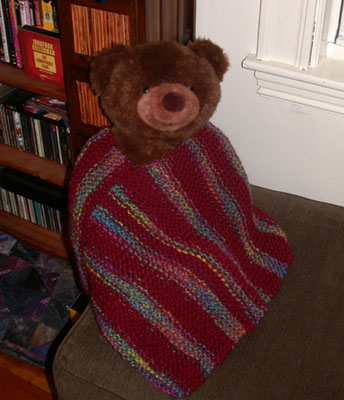 Kid's poncho, modeled by Victoria the Christmas bear.*
Vicky is pretty cute, but not nearly as cute as Alison's models! (Flat View of poncho)
I first heard of Graceful Stitches through Jason. He has a patient whose mother is an avid knitter, and when he told her that I was as well she told him all about her involvement with Graceful Stitches. I contacted them about being a volunteer knitter, and a week later a kit arrived at my house!
The kit was for an adorable kid's poncho, which I worked on occasionally between holiday projects. As Alison mentioned in her post today, once I finished up the poncho pieces I turned the pattern page to find instructions for an adorable matching hat. The only problem? It's a crochet pattern, and we don't speak crochet here at Casa Gringa.
Knowing Alison's enthusiasm for charity knitting, I asked her if she was interested in making the companion cap. She finished it up this week, and I can't wait to reunite the two and send them off to Graceful Stitches!
*Growing up, we had Windsor the Christmas bear. Every year, Windsor is set up with one family member's presents on Christmas morning. Two Christmases ago, for example, Windsor greeted us leaning against my mom's new computer with a spindle of CDs on his lap, and an optical mouse in his paw. When I moved out, my Mom Windsor got me my own Christmas bear so I could continue the tradition.
Posted by shannon at 2:32 PM | Comments (1) | For related posts:
January 5, 2005
Good News, Bad News
Thanks for the wonderful comments on the Sydney's sweater. I'm happy to report that it probably doesn't even fit her anymore since we're told she's packing on the pounds (ounces?) at lightning speed. She's doing great.
My camera is another story. After two years -- almost to the day -- of loyal service, my little Canon Elph has ceased to function. Jason's offered to let me use his camera whenever I need it, but I'll have to take a little time this weekend to re-acquaint myself with all of its myriad bells and whistles.
Stay tuned!
Posted by shannon at 12:02 PM | Comments (1) | For related posts:
January 1, 2005
Pinky Socks [Project retired, yarn swapped!)
Posted by shannon at 3:18 PM | For related posts: