« September 2003 | Main | November 2003 »
October 30, 2003
Consumer Therapy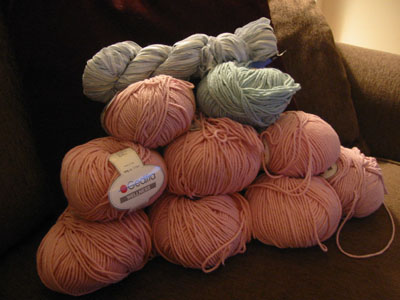 Discovering that Cherry Mango was a total bust the other night left me in a deep blue knitting funk. Since I was unwilling to give up on the patterns just yet, and since I also needed to get some yarn to whip up something for Jillay's birthday next week, I decided that a trip to the yarn store was just the thing to cure my blues.
As I mentioned in my eulogy for Cherry Mango, I'm still not sure if it was the yarn or the combining of patterns that doomed the project. So, I'm changing both to be sure. Since I had so much luck substituting Gedifra's Wellness for All Season's Cotton when I made the original Mango Negro, I decided to make that substitution again for this project, this time in Rose.
Instead of trying to combine Mango with Cherry Picking, I'm just going to make Cherry Picking without the Cherry Boobs (i.e., all one color, no intarsia). And since it's still going to be a nice pink color, I'm calling it Cherry Mango Part Deux even though there's no Mango left in it. Cross your fingers!
**If You Are Jillay, Read No Further!
Did I say I had the blues? Icy, silvery blue is more like it! I'm planning to use these two skeins (Berroco's Zen in Mushi Gray and Rowan Calmer in Calmer [no, that's not a typo!]) to make an ear warmer like this for Jillay for her birthday, only a little more classy and a little less sporty. I haven't had much success combining the two yet, but I'm optimistic. Ideas are, as always, welcome. It's a small project, so I have time to rip it out and start over if I don't like how it's progressing. Any excuse to keep knitting with Calmer -- so soft!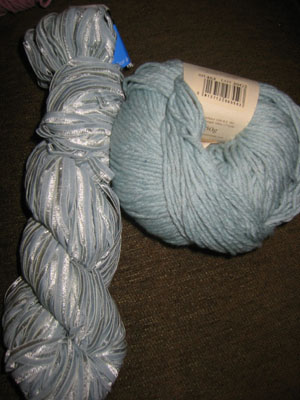 Posted by shannon at 2:29 PM | Comments (3) | For related posts: Knit Gringa, Knit!
October 29, 2003
Doubts
While traveling last weekend I finished the second sleeve on Cherry Mango and last night I picked up the stitches around the neck and started knitting the turtleneck. While picking up the stitches, I found myself suddenly plagued by doubts regarding this project.
With good reason, it turns out.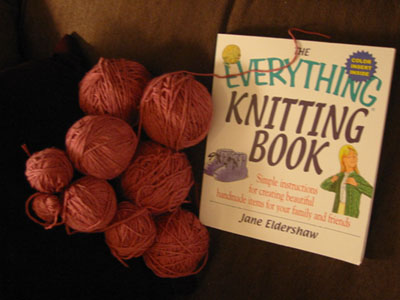 I had been worrying all along about the quality of the yarn I was using -- it was rough to the touch, and the plies separated easily. I knew quickly that the drape was going to be different than the All Seasons Cotton that the pattern(s) call for -- but I just crossed my fingers and kept on knitting.
Tonight, I finished the turtleneck and I tried to slip it over my head -- and I tried, and tried and tried. No luck, the yarn just didn't give enough. I couldn't tell if the problem was with the combination of two patterns or the replacement yarn. Either way, I had no choice but the rip out the whole thing. Grrrr.
Stay tuned for my plans to try these patterns again!
P.S. - The new book was a gift from Jason's mom, who saw it at Barnes and Noble and thought of me. So this weekend wasn't a total knitting loss!
Posted by shannon at 3:10 PM | Comments (4) | For related posts: Cherry Mango, For Mom
October 23, 2003
Slow goings...
So, after a blissful week of straight knitting on Cherry Mango, I grew antsy and put it aside in favor of returning to my beloved Cable Hoodie. I'm not sure why I didn't just tough it out and finish Cherry, since all I have left now is the second sleeve and the finishing...
In any event, I am up to the armhole decreases of the left front panel of Hoodie. No picture because, well, it would look just like this, only reversed.
Once I get through this panel, I'll probably go back to Cherry Mango and polish it off before starting Hoodie's sleeves. Then, I'm really going to get started on more Christmas presents. I swear.
Posted by shannon at 12:15 AM | Comments (1) | For related posts: Cable Hoodie
October 18, 2003
Cherry Mango!
As is my custom, I've gone full speed ahead on a project without documenting it very well here. Let me try and get up to speed.
I decided to dedicate some of the yarn that I snapped up at the Knitsmiths yarn swap to make a sweater for my mother for Christmas. My mother is, like me, allergic to wool so the cotton-acrylic blend that I had grabbed was perfect.
At about this time, Alison announced her plans for Sooty Mango and since I'd had such good luck with my Mango Negro I decided to do the same.
Like Alison, I'm adding sleeves and I'm going to try and change the neck as well. (The big turtleneck is pretty cool, but might be just a little bit too much for my oh-so-classy mom.) The current plan is to use the body of Mango, and then add the sleeves and neck from Picking Cherries (a.k.a. "Cherry Boobs", copyright Shannon and Alison Ann and Kay at masondixonknitting.com*), both from the Rowan All Seasons Cotton book.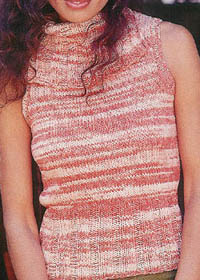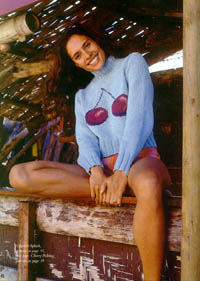 Put them together and you get Cherry Mango!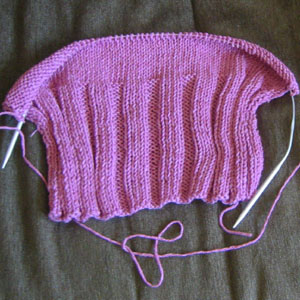 *Ed: In the comments to this post, Alison points out that she got "Cherry Boobs" from Ann and Kay at masondixonknitting.com, and since I probably first heard it from Alison it looks likely that I was a little overzealous in giving us credit for the clever name. :)
Posted by shannon at 1:51 AM | Comments (2) | For related posts: Cherry Mango, For Mom
October 14, 2003
Kitty con Cables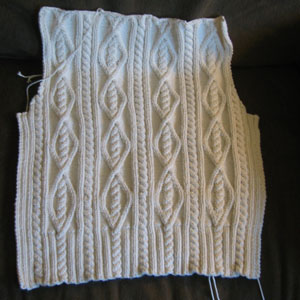 Let me preface this by saying that I'm really pleased with how the cabling is progressing. I think that the final product -- assuming that it fits -- is going to be really nice.
But seriously, the cables. Cables, cables, cables. Cables are no more boring than straight knitting, but they require so much more attention. It's hard to multi-task while cabling -- any attempts to watch TV or carry on a conversation lead to errors, ripping and frustration. I don't mind giving this project the necessary attention, but I've found myself craving mindless knitting.
I made a deal with myself that once I finished the back (pictured above), I could start something new and blissfully mindless. Stay tuned for those pictures soon!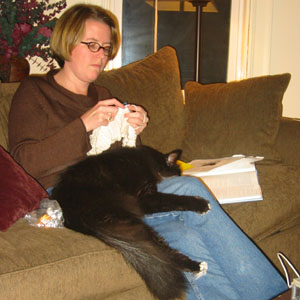 Boogie likes the cables because I sit still for once!
Posted by shannon at 10:25 PM | Comments (7) | For related posts: Cable Hoodie
Knitting 911!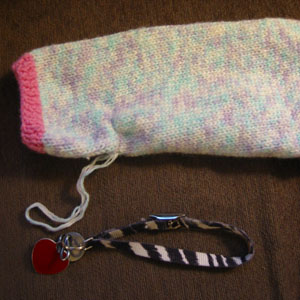 I woke up one morning last week, and shuffled into the kitchen. As I unsteadily rounded the corner into the pantry, something on the floor caught my eye. It was the Screaming Pink baby sweater, and it was wrapped around the cats' scratching post!
I'm not a morning person, so this discovery took a few moments to process. Knitting project? Kitchen floor? Wha? When I bent down to pick it up, I saw that Boogie's collar was caught on the sleeve. It all became clear. In a fit of characteristically enthusiastic playing, he must have somehow gotten tangled up with the sweater. Panicking -- it doesn't take much to make him panic, friends -- he must have run into the kitchen and finally separated himself from his collar near the scratching post.
The good news is that Boogie's collar did exactly what it's supposed to do when it gets caught on something: it came off. The bad news was that I had a big pull in the sleeve of the Screaming Pink sweater! Never fear, after a few minutes with an embroidery needle I figured out how to fix it. Disaster averted!
Posted by shannon at 10:12 PM | Comments (1) | For related posts: Miscellaneous Small Projects
October 5, 2003
Crazy Cat Knitting Lady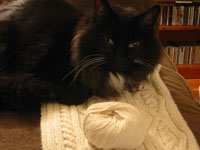 Progress continues on the hoodie sweater. I don't think I mentioned in the last post that when I went to cast on the first piece, I realized that I hadn't copied the first page of the pattern from the book before leaving for New Jersey to visit my parents. Since I was about to get on a train back to Boston (a five hour trip!) with only this project to keep me occupied, rather than start on the back as the pattern calls for I started on one of the front panels. That's what you see Boogie lounging on in the picture above.
Now that I'm back in Boston and have access to the book, I've cast on for the back. Cabling at the KnitSmiths is never a good idea (too much conversation and not enough concentration!), but I did manage to make some progress. More pictures to come as it grows!
Posted by shannon at 10:28 PM | Comments (2) | For related posts: Cable Hoodie
October 2, 2003
Update!
This past weekend, I saw my friend Dana and met her baby girl for whom I knit this blanket. Dana told me that it's the perfect size for the crib and she tucks the baby in underneath the blanket every night.
That's what knitting's all about.
Posted by shannon at 11:30 PM | For related posts: Miscellaneous Small Projects
At Long Last...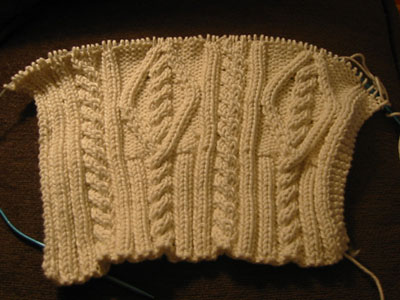 I've been kicking around the idea of making this cable hooded sweater
by Debbie Bliss, but as I mentioned in this entry the yarn was prohibitively expensive.
Johanna, a fellow KnitSmith, tipped me off to a woman who frequently sells Debbie Bliss DK Cotton on Ebay, so I started watching it like a hawk. Sure enough, there was quite a bit of DK Cotton up for bidding, but for weeks and weeks it seemed like every color except cream.
Finally, there it was. I waited to bid until the very last minute and I won -- netting $120 worth of yarn for $42, with a $12 shipping charge to get the goodies from the UK to my greedy little hands.
I was a good girl and waited until the pinky sweater was finished before casting on. I'm glad that I held out for the right yarn. With the onset of chilly weather suddenly upon us here in the Bay State, I'd better get knitting!
Posted by shannon at 11:16 PM | Comments (1) | For related posts: Cable Hoodie
October 1, 2003
The Goose is Getting Fat!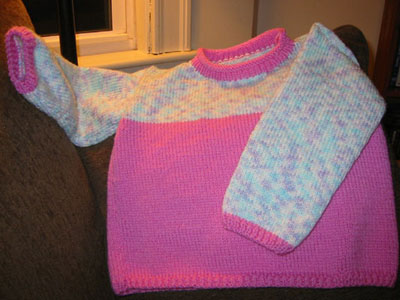 My eyeballs bled from the screaming pink, and my wrists and fingers ached from the tiny stitches... but it's done. And cute, I think.
There are, of course, a few imperfections. When I went to seam the shoulders, the back sections were wider than the front sections. (I'm talking only about the parts of the front and back that you seam together from the top of the armhole to the neckline; the front and back were exactly the same width below the armhole decreases.)
In my zeal to finish this sweater, and characteristically incapable of exercising any restraint whatsoever, I opted to wing it. As I mentioned before, I altered the pattern a bit -- I added stitches on width-wise to make up for knitting the whole thing in stockinette stitch rather than the K6P3 ribbing that the pattern calls for. I'm not sure how, but I think my on-the-fly calculations were factor in my seaming problems. :)
Anyway, I think I managed to hide the uneven-ness pretty well, but I'm annoyed that you can see the seaming if you're looking down on the shoulders (which many people will be doing, since this is a sweater for a toddler!). Any suggestions for invisible seaming? (The three-needle bindoff, while I love it, wasn't an option here because of the pattern.)
Posted by shannon at 2:43 PM | Comments (2) | For related posts: For Juli, Miscellaneous Small Projects